John MacLean Photography ~ Eilean Siar
Photo Library (Commercial Inquiries Only)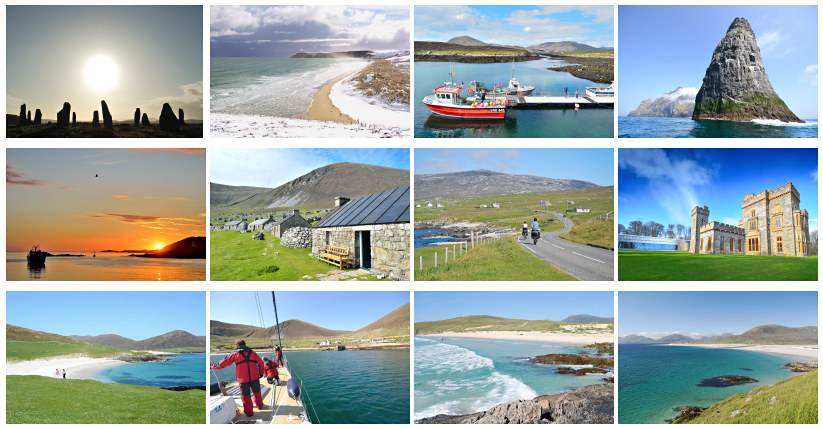 Below is a general list of subjects in my picture library of the Outer Hebrides/Western Isles, arranged by island/area.
Images are available to purchase as licenced 300 dpi high-resolution files, suitable for use in printed publications or downsized for online use.
If I don't already have exactly what you need, I can probably get it for you, so don't hesitate to get in touch with your requirements.
Eilean Siar / Na h-Eileanan an Iar:

Isle of Barra / Barraigh:
Castlebay – street scenes – Heaval hill – Castlebay harbour – Castlebay ferry terminal; Whisky Galore related; Castlebay Hotel; Kismul Castle – interiors, exteriors, from shore, from sea; Dunard Hostel; Aird Mhòr ferry terminal

Isle of Eriskay / Eiriosgaigh:
Baile; Borve; village; street scenes; Politician Bar; Eriskay ponies; Community Coop; slipway; ferry; fishing boats; black houses; holiday homes; hostels; accommodation; roads and transport; Eriskay to South Uist causeway; views from Beinn Sciathan; Calbhaigh/Calvay Island (SS Politician); Sound of Eriskay

Isle of South Uist / Uibhist a Deas:
Howmore; chapels; churches; black houses; causeway to Benbecula; thatched cottages; peatstacks; haystacks; crofting; skies; seascapes; Lochboisdale – street scenes – hotel – cafe – new harbour; Daliburgh; Cladh Hallan burial ground – wheelhouses; archaeology; general landscapes; beaches; moorland; hills; standing stones

Isle of Benbecula / Beinn na Faoghla:
Creagorry; Balivanich; Nunton Steadings; Benbecula to South Uist causeway; Liniclate; Culla Bay; airport; beaches; renewable energy – wind turbines; street scenes; sunsets; moonrise; general landscapes

Isle of North Uist / Uibhist a Tuath:
Archaeology; Barpa Langass chambered cairn exteriors – interiors; Langass Lodge; Taigh Chearsabhagh museum, arts centre – exteriors – interiors; Lochmaddy – hotel – ferry terminal – street scenes

Isle of Berneray / Beàrnaraigh Uibhist a Tuath:
Baile; Borve; village scenes; community hall; youth hostel; wind turbine; standing stone; causeway to South Uist; views from Beinn Shleibhe; slipway; ferry; fishing boats; seascapes; clouds; thatched cottages; old buildings; road signs; Tràigh Iar west beach; general landscape

St. Kilda / Hiort:
Hirta – Village Bay – panoramic – village main street/roofed and roofless cottages/pier/slipway/shore – Hirta coastline, cliffs – The Gap – Oiseval – Conachair – Mullach Mòr – MOD buildings – shop – church/chapel – power plant – Feather Store – house interiors – storage cleits – boat shaped enclosures – St Kilda museum interior – burial ground; Dùn, Boreray and Soay coastlines from the sea; tunnels – natural arches; stacks; Stac an Armin; Stac Lee; Stac Biorach; Stac Soay; Levenish; birds, gannets; sailing photos; cruise boats

Isle of Harris / Na Hearadh:
Tarbert – ferry terminal – marina – pontoons; Harris gin – distillery; street scenes; buildings; hill views; beaches; coastal erosion; geology; archaeology; coastline from the sea; camping; machair flowers; standing stones; Luskentyre; Seilebost; St Clement's Church, Rodel – interior, details, exterior; Leverburgh – Community Coop – slipway – Loch Portain ferry – fishing boats – lifeboat; Scalpay – landscapes – Eilean Glas lighthouse from land, from the sea; Rhenigidale village, youth hostel; Clisham; North Harris hills; Golden Road; beaches at Seilebost, Luskentyre, Horgabost, Hushinish, Northton

Isle of Lewis / Leòdhas:
Stornoway – Castle Grounds – Lews Castle renovation and new Museum/Archive – Arnish fabrication yard – shopfronts – street scenes – people at work – outdoor events, music, museum objects – Pride march, Stornoway – An Lanntair archive, art gallery exhibition and installation photography – Faclan Book Festival; Royal National Mod; aerial/drone photography; Stornoway harbour – ferry; village scenes; Loch Shell – sailing photos; historical sites – archaeology – ancient monuments; Rona Cross, Ness; Whalebone arch, Bragar; Leverhulme Bridge to Nowhere, Tolsta; St Moluag church, Ness; English and Gaelic road signs; village name roadsigns; Carn a Mharc, Gress; Carloway Broch; Arnol black house; Callanish ~ Calanais Stones & summer solstice – Druim nan Eun; Na Dromannan ancient stone quarry – Clach an Truiseil, Ballantrushal; Norse mill, Shawbost; Uig – Timsgarry – Baile na Cille – Mangersta – Mealista; Abhainn Dearg distillery, Uig – Gala Day, Reef beach; Pabbay Island, Uig; Dùn Bharabhat, Uig; Dùn Cromore, Lochs; Dùn Èistein, Morrison stronghold, Ness; historical images; Beasts of Holm, Iolaire; Ui church restoration, Aignish; Stornoway airport, Coastguard SAR Search and Rescue, helicopter base; renewable energy – windfarms – Beinn Ghrideag community wind farm – wind turbines; coastline – sea stacks – lighthouses; moorland; lochs; cairns – brochs; blackhouse remains; church interiors and exteriors; natural habitats – environmental scenes – coastal erosion – machair; trees, forestry plantations; Aline Community Woodland; estate photography; general landscape and beach scenes; beaches at Eoropie / Eoropaidh, Swainbost, Tràigh Mhòr, Garry, Gress, Coll, Bosta, Uig sands, Tràigh ne Berie, Valtos, Mangersta, Timsgarry

Great Bernera; Beàrnaraigh Leòdhais:
Bernera bridge; Marcus Vergette tidal bell, Bosta beach; Iron Age house, Bosta; village scenes; coastal walk; standing stones

General:
People working; PR photography; aerial / drone photography and video; buildings; interiors/property photography; street scenes; war memorials; Harris tweed – weaving – Hattersley loom; peat cutting; holiday, travel, tourism related; event photography; local artists' installation ~ exhibition photography; panoramic landscape; flora and fauna; still life ~ studio work
Inner Hebrides:

Isle of Skye; An t-Eilean Sgitheanach:
Portree; Broadford; Sabhal Mòr Ostaig Gaelic college; Coille Dalavil; Aird of Sleat – Tarskavaig; Cuillins; coastal and general landscapes; Isle of Raasay – Oscaig/Osgaig, birthplace of Sorley MacLean; Hallaig, Dùn Caan, general landscapes

Isle of Mull / Muile:
Craignure; Fionnphort; Duart Castle – exteriors – interiors; Torosay Castle gardens; general landscapes

Isle of Iona / Eilean Chaluim Chille:
Iona abbey – interiors – exteriors; Rèilig Odhrain kings' burial ground; general landscapes

Isle of Staffa / Stafa:
Staffa from the sea; Fingal's Cave; coastal landscapes